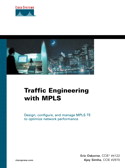 Design, configure, and manage MPLS TE to optimize network performance
Almost every busy network backbone has some congested links while others remain underutilized. That's because shortest-path routing protocols send traffic down the path that is shortest without considering other network parameters, such as utilization and traffic demands. Using Traffic Engineering (TE), network operators can redistribute packet flows to attain more uniform distribution across all links. Forcing traffic onto specific pathways allows you to get the most out of your existing network capacity while making it easier to deliver consistent service levels to customers at the same time.
Cisco(r) Multiprotocol Label Switching (MPLS) lends efficiency to very large networks, and is the most effective way to implement TE. MPLS TE routes traffic flows across the network by aligning resources required by a given flow with actual backbone capacity and topology. This constraint-based routing approach feeds the network route traffic down one or more pathways, preventing unexpected congestion and enabling recovery from link or node failures.
Understand the background of TE and MPLS, and brush up on MPLS forwarding basics
Learn about router information distribution and how to bring up MPLS TE tunnels in a network
Understand MPLS TE's Constrained Shortest Path First (CSPF) and mechanisms you can use to influence CSPF's path calculation
Use the Resource Reservation Protocol (RSVP) to implement Label-Switched Path setup
Use various mechanisms to forward traffic down a tunnel
Integrate MPLS into the IP quality of service (QoS) spectrum of services
Utilize Fast Reroute (FRR) to mitigate packet loss associated with link and node failures
Understand Simple Network Management Protocol (SNMP)-based measurement and accounting services that are available for MPLS
Evaluate design scenarios for scalable MPLS TE deployments
Manage MPLS TE networks by examining common configuration mistakes and utilizing tools for troubleshooting MPLS TE problems
(Change "hxxp" to "http") hxxp://www.4shared.com/file/2Zzu_phV/Cisco_Press_-_Traffic_Engineer.html